Invisalign In Monroe, MI
In the past, there was no way to hide the fact that you wore braces. The moment you opened your mouth to speak, smile or laugh, your metal wires and brackets were revealed. Today, no one has to know that you wear braces, thanks to the Invisalign brace system. Dr. Steve Pleickhardt, your Gainesville, VA dentist at American Dental Associates, explains how Invisalign works and shares a few benefits of clear braces.
There's no need for wires and brackets with Invisalign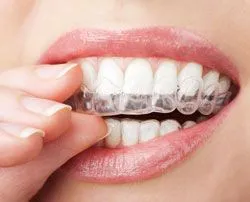 Instead of wires and brackets, Invisalign uses a series of clear, removable aligner trays that gradually move your teeth into the proper alignment. During your first appointment, your Gainesville dentist uses photographs, impressions and X-rays to design the custom-made trays that will correct your orthodontic issues. Every two weeks, you'll begin wearing a new set of aligners.
Invisalign can correct many orthodontic issues
Invisalign is an effective treatment for most mild to moderate orthodontic issues. It's a good choice if you have an:
Overbite
Underbite
Crossbite
Open bite
Crowding
Gaps between teeth
Invisalign offers many benefits
When you choose Invisalign rather than traditional metal braces, you'll enjoy these benefits:
No Food Restrictions: People who wear metal braces have to be careful when eating. Hard foods can damage wires and brackets, while sticky foods can become caught in the braces. When you choose Invisalign, you won't receive a long list of foods to avoid. In fact, you can eat anything you want because you'll remove your trays to eat.
Freedom to Go Brace-Free: Even though Invisalign trays are very unobtrusive, there still many be times when you would rather not wear your braces. If you're playing your favorite sport or attending a special event, you can remove your trays for a few hours without hampering your progress.
No Change in Your Oral Hygiene Routine: Keeping wires and brackets free from food debris is a time-consuming task. Since Invisalign aligner trays are removable, you'll simply take them out and brush and floss as usual.
Do you want to transform your smile with Invisalign? Call Jeanette C. Murphy DDS, PLC in Monroe, MI at (734) 242-4744 to learn more!